3CE GLOW LIP COLOR #SOUL LIKE
Tình trạng: Còn hàng
Product Information Net : 3 g How to Use : Dispense a small amount and gently apply. Expiration Date: 36 months after manufacture, 18 months after opening Country of Manufacture : South Korea Cosmetics Responsible Person (Brand Holder) and Manufacturer : Nanda Inc. / Shinsegae Intercos Korea Inc. Examination of Functional Cosmetics by Ministry of Food and Drug Safety : Not applicable Customer Service Center No.: (1)877.708.3574 Quality Guarantee : Compensation for defective products is provided according to Fair Trade Commission standards. Cautions for Use : 1) If you experience any symptoms such as redness, swelling, or itchiness during usage or from exposure to direct sunlight after usage, suspend use and consult a physician. 2) Do not use the product on wounds or any area of skin irritation. 3) Storage and handling precautions a) Keep away from reach of children. b) Keep away from direct sunlight. IngredientsLip 다이아이소스테아릴말레이트, 카프릴릭/카프릭트라이글리세라이드, 피토스테릴/이소스테아릴/세틸/스테아릴/베헤닐다이머디리놀리에이트, 합성왁스, 펜타에리스리틸테트라에틸헥사노에이트, 비스-베헤닐/아이소스테아릴/피토스테릴다이머다이리놀레일다이머다이리놀리에이트, 스쿠알란, 티타늄디옥사이드 (CI 77891), 폴리글리세릴-2트라이아이소스테아레이트, 마이카,에틸렌/프로필렌코폴리머, 토코페릴아세테이트, *피토스테릴/옥틸도데실라우로일글루타메이트, 황색4호 (CI 19140), 폴리하이드록시스테아릭애씨드, 1,2-헥산다이올, 솔비탄세스퀴올리에이트, 적색201호 (CI 15850), 적색산화철 (CI 77491), 수크로오스테트라스테아레이트트라이아세테이트, 실리카다이메틸실릴레이트, 흑색산화철 (CI 77499), 적색202호 (CI 15850), 세틸다이메티콘, 펜타에리스리틸테트라-다이-t-부틸하이드록시하이드로신나메이트, 향료, 트라이에톡시카프릴릴실레인, 토코페롤 Diisostearyl Malate, Caprylic/Capric Triglyceride, Phytosteryl/Isostearyl/Cetyl/Stearyl/Behenyl Dimer Dilinoleate, Synthetic Wax, Pentaerythrityl Tetraethylhexanoate, Bis-Behenyl/Isostearyl/Phytosteryl Dimer Dilinoleyl Dimer Dilinoleate, Squalane, Titanium Dioxide (CI 77891), Polyglyceryl-2 Triisostearate, Mica, Ethylene/Propylene Copolymer, Tocopheryl Acetate, *Phytosteryl/Octyldodecyl Lauroyl Glutamate, Yellow 5 Lake (CI 19140), Polyhydroxystearic Acid, 1,2-Hexanediol, Sorbitan Sesquioleate, Red 6 (CI 15850), Iron Oxides (CI 77491), Sucrose Tetrastearate Triacetate, Silica Dimethyl Silylate, Iron Oxides (CI 77499), Red 7 Lake (CI 15850), Cetyl Dimethicone, Pentaerythrityl Tetra-di-t-butyl Hydroxyhydrocinnamate, Fragrance (Parfum), Triethoxycaprylylsilane, Tocopherol*아미노산 유도체 Notice for exchange/refund Exchange/refund may not be accepted for some 3CE products if the product value has been lost by opening or damage.GLOW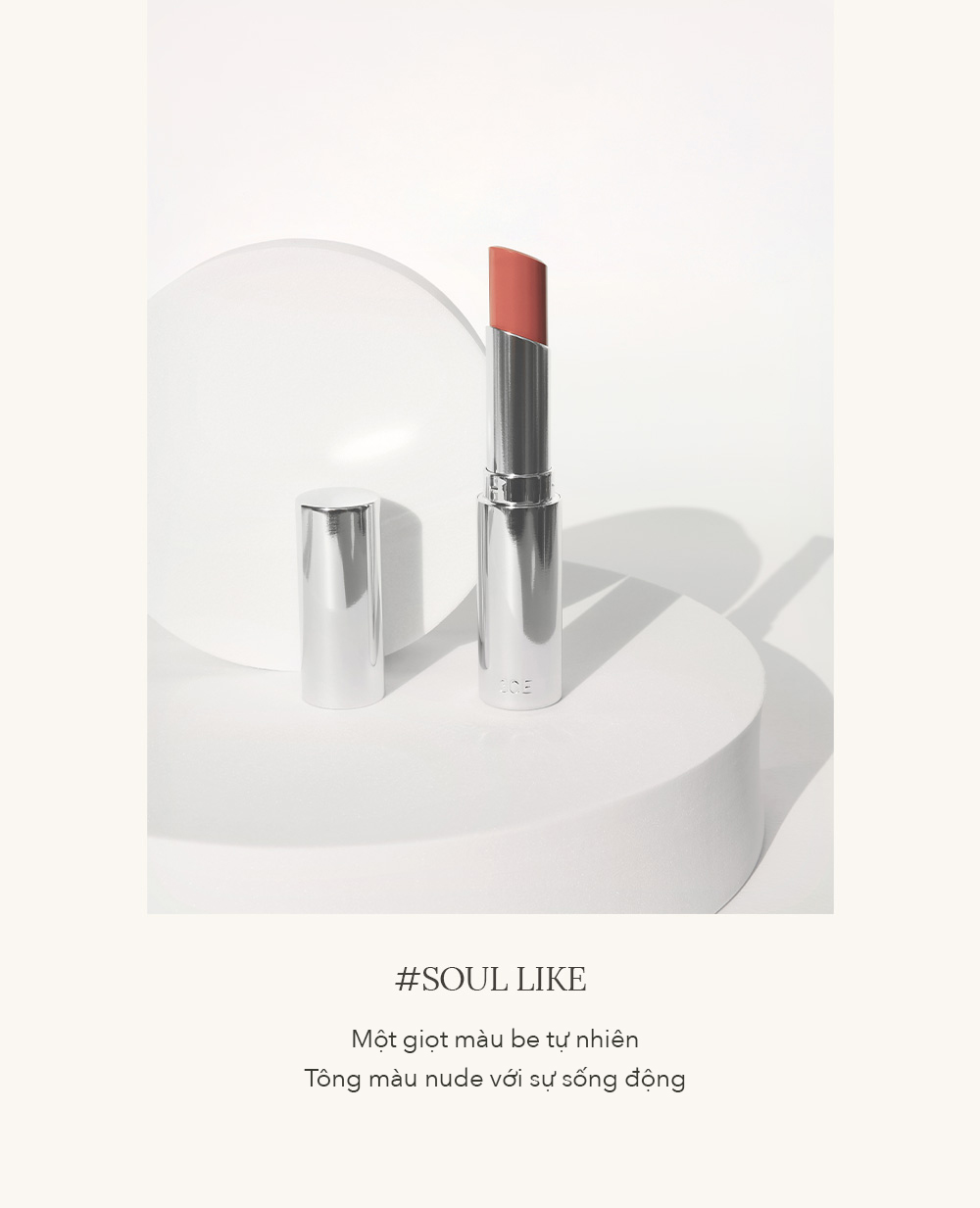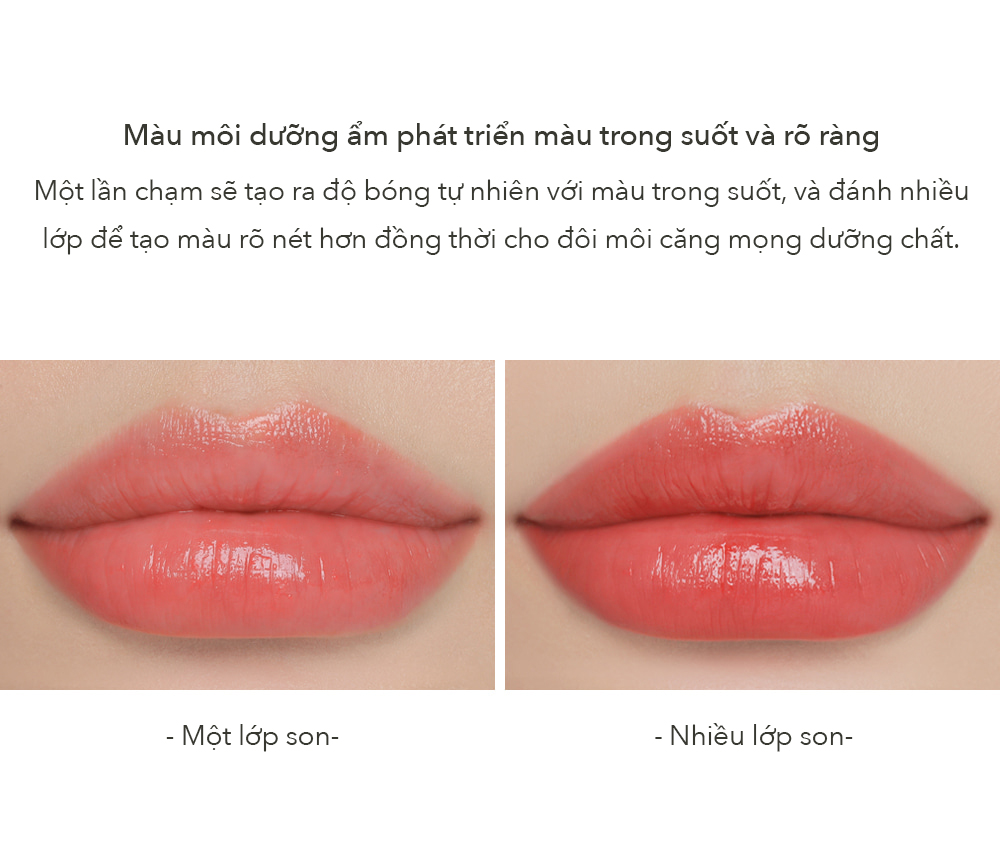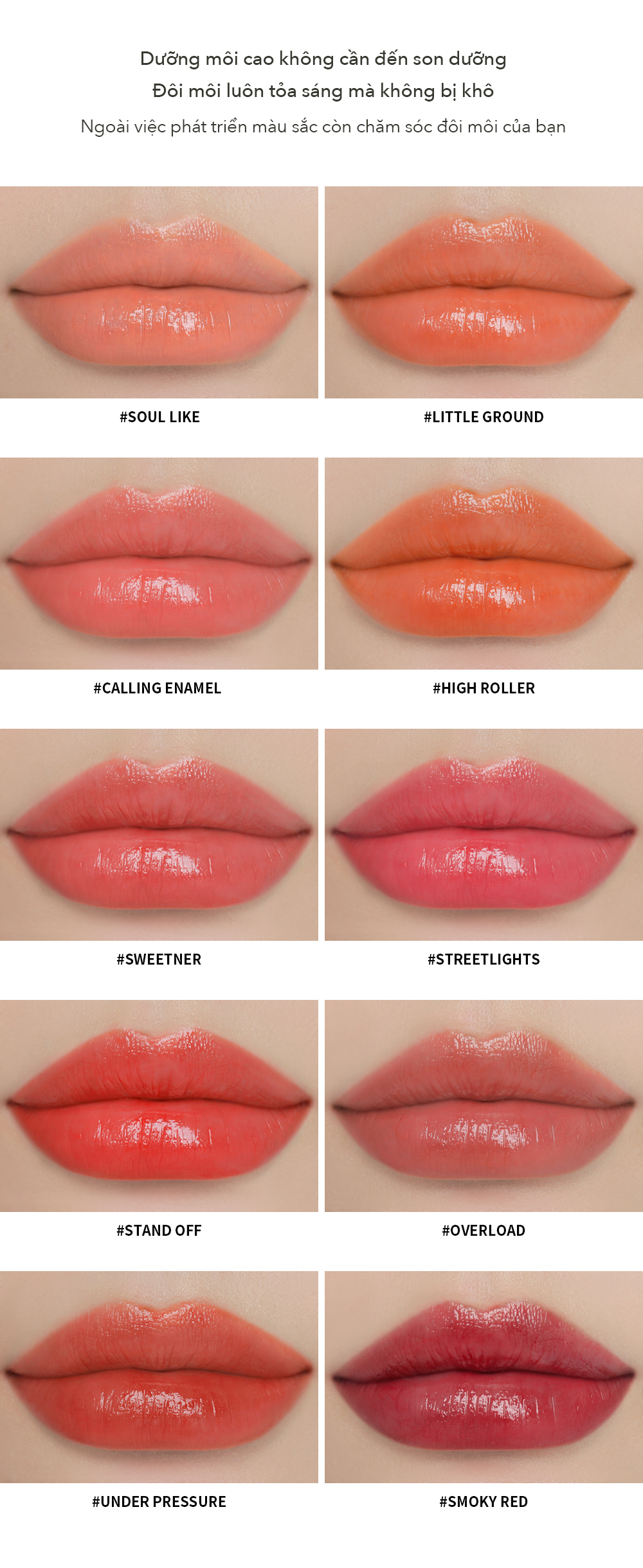 Product Information
Net : 3 g
How to Use : Dispense a small amount and gently apply.
Expiration Date: 36 months after manufacture, 18 months after opening
Country of Manufacture : South Korea
Cosmetics Responsible Person (Brand Holder) and Manufacturer : Nanda Inc. / Shinsegae Intercos Korea Inc.
Examination of Functional Cosmetics by Ministry of Food and Drug Safety : Not applicable
Customer Service Center No.: (1)877.708.3574
Quality Guarantee : Compensation for defective products is provided according to Fair Trade Commission standards.
Cautions for Use : 1) If you experience any symptoms such as redness, swelling, or itchiness during usage or from exposure to direct sunlight after usage, suspend use and consult a physician. 2) Do not use the product on wounds or any area of skin irritation. 3) Storage and handling precautions a) Keep away from reach of children. b) Keep away from direct sunlight.
IngredientsLip
다이아이소스테아릴말레이트, 카프릴릭/카프릭트라이글리세라이드, 피토스테릴/이소스테아릴/세틸/스테아릴/베헤닐다이머디리놀리에이트, 합성왁스, 펜타에리스리틸테트라에틸헥사노에이트, 비스-베헤닐/아이소스테아릴/피토스테릴다이머다이리놀레일다이머다이리놀리에이트, 스쿠알란, 티타늄디옥사이드 (CI 77891), 폴리글리세릴-2트라이아이소스테아레이트, 마이카,에틸렌/프로필렌코폴리머, 토코페릴아세테이트, *피토스테릴/옥틸도데실라우로일글루타메이트, 황색4호 (CI 19140), 폴리하이드록시스테아릭애씨드, 1,2-헥산다이올, 솔비탄세스퀴올리에이트, 적색201호 (CI 15850), 적색산화철 (CI 77491), 수크로오스테트라스테아레이트트라이아세테이트, 실리카다이메틸실릴레이트, 흑색산화철 (CI 77499), 적색202호 (CI 15850), 세틸다이메티콘, 펜타에리스리틸테트라-다이-t-부틸하이드록시하이드로신나메이트, 향료, 트라이에톡시카프릴릴실레인, 토코페롤
Diisostearyl Malate, Caprylic/Capric Triglyceride, Phytosteryl/Isostearyl/Cetyl/Stearyl/Behenyl Dimer Dilinoleate, Synthetic Wax, Pentaerythrityl Tetraethylhexanoate, Bis-Behenyl/Isostearyl/Phytosteryl Dimer Dilinoleyl Dimer Dilinoleate, Squalane, Titanium Dioxide (CI 77891), Polyglyceryl-2 Triisostearate, Mica, Ethylene/Propylene Copolymer, Tocopheryl Acetate, *Phytosteryl/Octyldodecyl Lauroyl Glutamate, Yellow 5 Lake (CI 19140), Polyhydroxystearic Acid, 1,2-Hexanediol, Sorbitan Sesquioleate, Red 6 (CI 15850), Iron Oxides (CI 77491), Sucrose Tetrastearate Triacetate, Silica Dimethyl Silylate, Iron Oxides (CI 77499), Red 7 Lake (CI 15850), Cetyl Dimethicone, Pentaerythrityl Tetra-di-t-butyl Hydroxyhydrocinnamate, Fragrance (Parfum), Triethoxycaprylylsilane, Tocopherol*아미노산 유도체
Notice for exchange/refund
Exchange/refund may not be accepted for some 3CE products
if the product value has been lost by opening or damage.GLOW